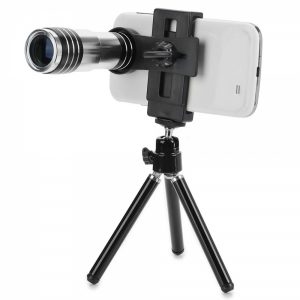 Virtually everyone has a smartphone or other smart devices (iPads, etc.) that offer the ability to take images, video and even time-lapse video. These devices are therefore going to be the go to option for people wanting to image the 2017 Great Solar Eclipse. Imaging the Sun with your smart device without any additional filtering could damage the device.
You might find opinions that differ on this subject, but our attitude is that these devices were not intended to image the Sun and, like cameras, telescopes, binoculars, etc., they should only be used when outfitted with the proper filtering.
From a technical standpoint, the imaging design of smartphones creates limitations when taking a photograph or creating a video of a solar eclipse. Smart phones have a small sensor coupled with a small lens with a very wide angle – a combination that is going to make the Sun look like a small fuzzy ball – nothing like the glorious eclipse images you'll see online.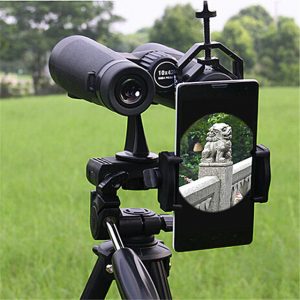 For the most basic in safe viewing and imaging, you can purchase solar-safe white-light film and place it over your phone's image sensor. This will protect the device during solar imaging. To learn more about using inexpensive solar filters, visit our Solar eclipse equipment guide – its free to access and requires no signup – simply start reading!
To enhance your phone's solar imaging ability, you can add an inexpensive telephoto lens to your smart phone. These lenses connect to the phone's image sensor and functionally enlarge the Sun for your imaging, video or time lapse. You'll need to place your solar safe film on the telephoto lens instead of the phone itself.
A further step is to add a tripod adapter, another inexpensive accessory that will allow for steady imaging. Also widely available are combo tripod/telephoto lens options.
The top option for using your smartphone to photograph the Sun is to image through a binocular or telescope that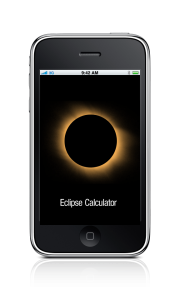 is outfitted with a solar filter (also covered in our Solar equipment guide). There are numerous adapters available, but be wary of very inexpensive adapters, which can be quite flimsy. We suggest, if you are going to the trouble of setting up a telescope to image with your phone, buy an adapter from a company that specializes in astronomy products.
As an added bonus with your smart phone, newer versions of the iOS iPhone operating system, as well as some Android OS versions provide the opportunity to shoot time-lapse videos. Try using this feature with your safely outfitted eyephone to create a once in a lifetime video!
Resources
NASA – Smartphone Photography of the Great Solar Eclipse
Dr. Sten Odenwald is an astronomer at the NASA Goddard Spaceflight Center. He has written the definitive guide on how to safely use a smartphone to image the Great Solar Eclipse. In addition to providing an overview of the safety issues, he demonstrates how to maximize your smartphone's functionality through the use of filters, zoom lens attachments, mounting options, and more. To view click here.
American Astronomical Society – Apps for the Great Solar Eclipse
The American Astronomical Society(AAS) has created a Solar Eclipse Task Force to direct the organization's efforts in relation to the Great Solar Eclipse – which will ultimately impact over 500 million people. The Task Force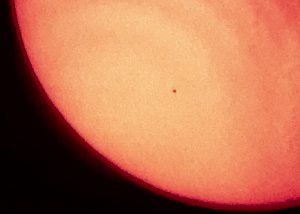 has vetted numerous iOS and Android apps based on their quality, how new they are, if they are up to date, and their relevance to the Great Solar Eclipse. To view click here.
Andrew Symes iPhone Astrophotography – Using an iPhone and Telescope for Solar Eclipses
Andrew Symes has taken imaging with an iPhone to another level in this Flickr pictorial album of astronomy images captured with various iPhone/telescope combinations. Andrew's image, shown here, is of the May 9, 2016 Mercury transit of the Sun. In all, he has posted 194 astro images of the Sun, Moon, Saturn, Jupiter and more in this incredible image album. To view click here.
Buying Resources
– Tele Vue Optics – FoneMate eyepiece smart phone adapter.
– Meade – Digiscoping eyepiece smart phone adapter.
– Orion – SteadyPix Pro universal camera/smartphone mount.
– Astro-Physics – AstroSolar safety film sheets.
###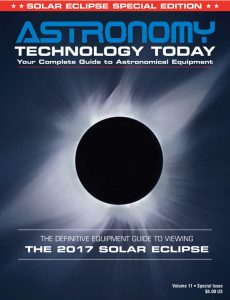 The Astronomy Technology Today editorial staff would like to take this opportunity to remind you of the availability of our Solar eclipse equipment guide – The Definitive Equipment Guide to the 2017 Solar Eclipse.  Our goal with the 40 page publication is to provide an easy-to-consume introduction to the technological options for viewing and imaging the Great Solar Eclipse. We cover the gamut of options available including building you own solar viewer, solar glasses, smart phones, DSLR cameras, using astronomy telescopes, solar telescopes, using binoculars, solar filters (including a DYI filter option), CCD astro cameras, astro video cameras, webcams and much more. You can view the guide on our website here – its free and there is no requirement to sign up to read the guide.