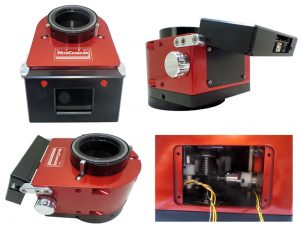 MoonLite's new NiteCrawler two-axis worm-drive rotating focuser is a fully-electronic focuser using fly-by-wire control technology for exceptionally accurate positioning. The lead screws provide a large 25-pound (11.3-kilogram) payload capacity with extreme resolution and repeatability. The focuser holds heavy loads even with the power off and remembers position on power up – there's no need to re-home each time you restart.
CNC-style job knobs for both focus and rotation input allow multiple resolutions to be picked by the user. This provides manual position ability along with fully automated positional ability … at the same time!
The patented NiteCrawler design is intended for remote automation of large, heavy imaging instruments providing extreme position accuracy that is repeatable down to 0.26 microns. Vertical focus motion is handled by three stainless-steel rails riding on six large 1/2-inch bearings under large pre-load pressure. This allows the focuser to maintain center-line mechanical point even with huge instrument loads hanging on it.
Rotation is provided by an inner and outer drawtube riding on a double-row bearing track providing extreme rigidity. The drawtube is designed just like a tall bearing, but in this case, it is hollow. The large stainless-steel lead screws provide very accurate positioning and no backlash … up to 25 pounds of instrument loads.
Auto-Calibrate Mode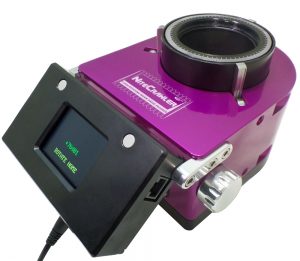 Hold down the right button while turning the power on, the let go of the button once the display comes up (Image 3). The focuser will rotate in a clockwise direction finding the rotate home position first. It will then rack the drawtube down to find vertical focus home positon. This can take from 1 to 10 mins. The limit indicator will go from Blue to Red when any of the magnetic position sensors are detected.
Auto Calibrate needs to only be done once, as the focuser remains at and remembers its last position when turned back on. However, the focuser can be re-calibrated at any time, even remotely using the utility program.  This can be handy if cables get twisted or the focuser mechanical hits something to limit its motion. The motors are designed to simply stall if the focuser's movement is restricted – for example, if it runs in to the mount. No harm will come to the drive systems, but a stall situation will require re-calibrating the focuser.
The Auxiliary Port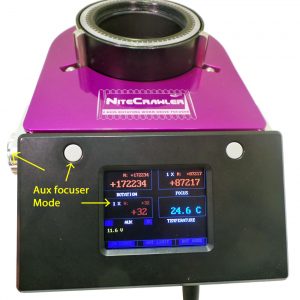 If an option is connected, the Auxiliary Port can be run using the left jog knob. Hold down the left Menu button for three seconds. The left jog knob will then operate the Auxiliary Port. Notice the 1x rate indicator turns on in the AUX display area and turns off in the rotation area. To switch back, just hold the button down for three seconds again to change back to rotation mode. Auxiliary Port accessories include a Mini Worm focuser, automated dust cover, and third-axis FR/flattener internal elevator positioning system (for WR35 model only).
Inverted Mode Display
This feature is activated by holding down the right-side menu button for three seconds. Hold it down again to revert back to the normal upright display mode.
Mechanical Adjustments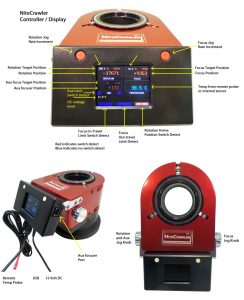 Collimation is factory set on a bench with a laser, but customers can change it by adjusting the six offset cam-bearing holders. Note that the bearing to linear slide rails are under a fair amount of pressure, so changing the offset Cam bearing position also effects the drawtube rigidness and collimation at the same time.
MoonLite tests with a heavy leveraged load when collimating the focuser to be sure sufficient pressure exist between the bearings and the rails during the adjustment process.
MoonLite offers its new NiteCrawler focuser in three configurations: the WR25 (2.5-inch) version is priced at $2400US; the WR30 (3.0-inch) at $2650; and the WR35 (3.5-inch) at $2900. For more information, visit https://focuser.com .
Features and Specifications Include:
– 25-pound instrument load capacity
– Two-axis, no-backlash lead screws
– Rotating drawtube – 0.001-degree resolution
– WR25 – 374,920 steps per revolution
– WR30 – 444,080 steps per revolution
– WR35 – 505,960 steps per revolution
– Approximately 0.9 inches of travel, 94,580 steps per inch resolution – 0.0000105 inch per step or 0.2667 microns per step
– Large 0.5-inch high-capacity bearings
– Three-point stainless-steel linear rails
– Five jog rates with 32 indent encoder knobs
– Left-knob rotation and auxiliary-focus/right-knob focus
– Eccentric cam-bearing collimation system
– Remote temperature probe
– ASCOM/non-ASCOM/SKYX
– Auxiliary motor port can run three optional accessories: optional mini-worm secondary focuser; optional automated dust cover; optional focal-reducer/flattener elevator positioning system
– Most flange sizes in stock; custom available on request
– Six custom anodized colors
– Power: 12-volt/400-mA (both motors running), 120mA (idle)
– Weight: WR25 6 pounds; WR30 7 pounds; WR35 8 pounds
– Flange extenders available for adjusting profile 0.7-inch thick and 1.7-inch thick sizes
– Thread-in adapters for all cameras/reducers available
– Drawtube extender rings included: 0.5-inch, 1.0-inch and 2.0-inch sizes
###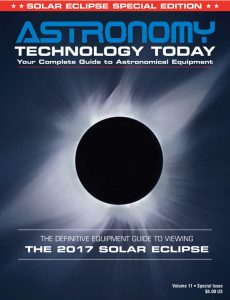 The Astronomy Technology Today editorial staff would like to take this opportunity to remind you of the availability of our Solar eclipse equipment guide – The Definitive Equipment Guide to the 2017 Solar Eclipse.  Our goal with the 40 page publication is to provide an easy-to-consume introduction to the technological options for viewing and imaging the Great Solar Eclipse. We cover the gamut of options available including building you own solar viewer, solar glasses, smart phones, DSLR cameras, using astronomy telescopes, solar telescopes, using binoculars, solar filters (including a DYI filter option), CCD astro cameras, astro video cameras, webcams and much more. You can view the guide on our website here – its free and there is no requirement to sign up to read the guide.