Celestron has teamed up with PlaneWave Instruments to develop a new, specialized telescope control software for the CGX and CGX-L mount.  The new PWI Telescope Control software release coincided with the release of Celestron's newly designed -L series German Equatorial Mounts. With the availability of the new PWI Telescope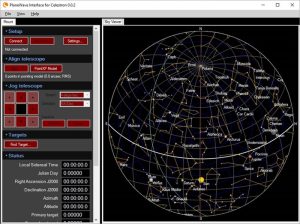 Control mount, software owners of CGX and CGX-L mounts will see a significant increase in the full pointing accuracy potential of the mounts.
The software can be accessed with a direct USB connection from a PC to the USB port on the mount and the PWI's Sky Viewer display makes for easy target selection. Users can find their favorite deep sky object in PWI's extensive object database and PWI links to the online SIMBAD astronomical database for even more objects.
PWI employs PointXP mount modelling, which accepts numerous star alignment points for the best possible accuracy.  PointXP (also used in StarSense AutoAlign accessory) goes beyond the pointing capability of a traditional hand control.  By adding multiple star alignment points, PWI accounts for various types of alignment errors, including instrument flexure. As a result, the overall pointing accuracy is improved.
PWI Software Features Include:
– PointXP mount modelling, accepts as many star points as desired to add to the pointing model
– Co-developed with PlaneWave Instruments
– Future updates will contain more features and improvements
– Sky Viewer star cart makes object selection easier
– Extensive object database, including online database
The System Requirements to Use the Software is as Follows:
– Operating System: Windows 7, 8, 10
– Mount Connection: USB 2.0
– System Resources: A minimum of 10MB of hard disk space and 64MB of memory required
– Screen Resolution: 1024 x 768 or higher recommended
– Internet Connectivity: Optional to access online SIMBAD astronomical database and enables location and time services
Learn more at www.celestron.com.
###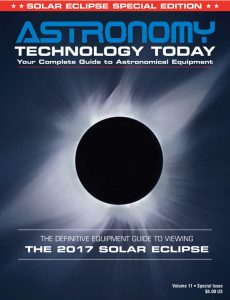 The Astronomy Technology Today editorial staff would like to take this opportunity to remind you of the availability of our Solar eclipse equipment guide – The Definitive Equipment Guide to the 2017 Solar Eclipse.  Our goal with the 40 page publication is to provide an easy-to-consume introduction to the technological options for viewing and imaging the Great Solar Eclipse. We cover the gamut of options available including building you own solar viewer, solar glasses, smart phones, DSLR cameras, using astronomy telescopes, solar telescopes, using binoculars, solar filters (including a DYI filter option), CCD astro cameras, astro video cameras, webcams and much more. You can view the guide on our website here – its free and there is no requirement to sign up to read the guide.