In announcing its new Good Neighbor Lighting line, Lowe's recognized that "Star-filled night skies are now fading and being washed out by the glow of city lights. Artificial light shining up into the sky creates light pollution and dulls the view for stargazers. Excessive and poorly directed lights are also a tremendous waste of energy. They can create deep shadows that are unsafe for pedestrians, cause hatchling sea turtles to lose sight of the ocean and cause migrating birds to fly into buildings."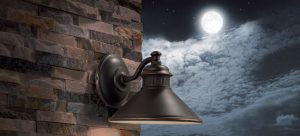 The company also stated, "Although the problem is serious, the solution for many is as simple as changing bulb wattage, using motion sensors or replacing old lighting with a Good Neighbor Lighting fixture. Many ordinances are being passed nationwide to protect our sky from light pollution. Lowe's can provide you with lighting options that are neighbor-friendly by keeping the sky dark, preserving the environment and saving energy."
To the question, "Why is this important?" Lowe's answered, "Good Neighbor outdoor lights improve visibility, safety and security, while minimizing energy use, operating costs and ugly glare. Directing light where you're only using the amount that's needed saves money, energy and reduces greenhouse gases. [While] nothing may be wrong with your current outdoor fixtures, they could be poorly designed, improperly aimed and bad for our environment. Traditional outdoor lighting fixtures can be costly, wasteful and distractingly glary. They harm the nighttime environment and neighbors' property values."
They continued, "Here's the basic rule of thumb: If you can see the bright bulb from a distance, it's a bad light. With a Good Neighbor light, you see lit ground instead of the dazzling bulb. You can also check the boxes for our Good Neighbor Lighting Seal of approval just to confirm that the fixture meets the guidelines. Lowe's provides an assortment of innovative Dark Sky-approved outdoor lighting fixtures."
An example of Lowe's Good Neighbor fixtures is its Portfolio Ellicott 13.12-inch Galvanized Dark Sky Outdoor Wall Light, priced at $39.98US, which directs all light output only where it's needed. Don't you wish your neighbor had one?
For more information, visit www.lowes.com.
###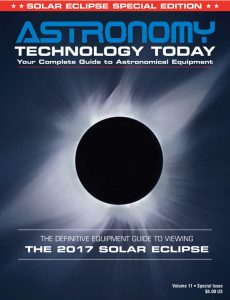 The Astronomy Technology Today editorial staff would like to take this opportunity to remind you of the availability of our Solar eclipse equipment guide – The Definitive Equipment Guide to the 2017 Solar Eclipse.  Our goal with the 40 page publication is to provide an easy-to-consume introduction to the technological options for viewing and imaging the Great Solar Eclipse. We cover the gamut of options available including building you own solar viewer, solar glasses, smart phones, DSLR cameras, using astronomy telescopes, solar telescopes, using binoculars, solar filters (including a DYI filter option), CCD astro cameras, astro video cameras, webcams and much more. You can view the guide on our website here – its free and there is no requirement to sign up to read the guide.