Richard Day of Skylight Telescopes is offering a one-off 85-mm f/9 refractor in Candy Apple red with a polished brass dew shield. The vintage-style scope weighs 3.5 kilograms (7.7 pounds). The telescope is supplied with a high-quality Crayford-style focuser and an integrated Vixen-style dovetail rail, but the dovetail can be removed if you wish to mount it in a pair of rings or a cradle. An optical finder can be supplied at additional cost.

All of Richard's Skylight premium optical tubes & tripods are handmade and assembled in Wimbledon, Southwest London. They are a unique way of looking at telescopes. Instead of simply owning the latest assembly of parts from the CNC mill, Skylight refractors reflect another time, where the craftsman had his hands on every part and the classic English refractors of T. Cooke and Sons of York/London are a constant inspiration and assist in keeping the balance between Victorian visual design & modern engineering in my Skylight designs.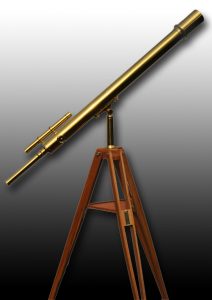 Included in the Skylight Telescopes are a number of vintage telescopes. One of the most unique are the Skylight-Elliott telescopes. After WWII, Ernie Elliott began working at Broadhurst Clarkson…one of England's most prestigious telescope makers. During the decades that followed, he learned the craft of telescope making from the generation before him…those who had sold their astronomical efforts alongside companies of such pedigree as T. Cooke & Sons & Grubb Parsons.
The Skylight-Elliott telescopes are unsold, vintage telescopes that were left in storage for several decades. Richard is taking each scope hand finishing the telescopes and offering them for sale.  Each is very special and they are of a very limited number.
For more information, visit www.skylight-telescopes.com.
###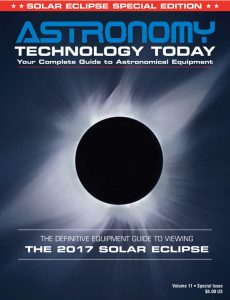 The Astronomy Technology Today editorial staff would like to take this opportunity to remind you of the availability of our Solar eclipse equipment guide – The Definitive Equipment Guide to the 2017 Solar Eclipse.  Our goal with the 40 page publication is to provide an easy-to-consume introduction to the technological options for viewing and imaging the Great Solar Eclipse. We cover the gamut of options available including building you own solar viewer, solar glasses, smart phones, DSLR cameras, using astronomy telescopes, solar telescopes, using binoculars, solar filters (including a DYI filter option), CCD astro cameras, astro video cameras, webcams and much more. You can view the guide on our website here – its free and there is no requirement to sign up to read the guide.