For iOS, the Solar Eclipse Timer app is a complete guide to solar eclipses that is simple to use. Created by Gordon Telepun for first-time eclipse observers as well as veteran eclipse chasers, it is released well in time to prepare everyone for the August 21, 2017 Total Solar Eclipse, which will cross the entire US. This will be a once in a lifetime opportunity for many people, and the Solar Eclipse Timer is an inexpensive tool to ensure that you do not miss a second of this wonderful event.
Your phone's GPS function automatically finds where you are, then calculates and loads the four eclipse contact times into the timers. Voice announcements tell you what interesting things to observe during the partial phases, and then voice countdowns guide you to the precise contact times.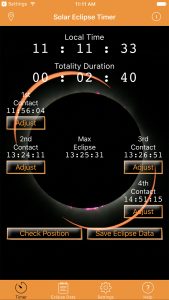 To practice your plan for photography, the app has a demo session that plays a totality movie synchronized with the timers. The app includes a unique calculator that lists the times to use to take a sequence of partial phase images to create a beautiful sequence of the phases just like professional photographers.
Although not specifically a mapping program, included are Internet hyperlinks to interactive maps of the eclipse path to help guide you to totality.
The app includes an extensive help file detailing the use of all of its unique features. The help file also includes eclipse day checklists and educational information about the partial phase phenomena.
Download the app, get yourself into the path of totality, tap a few buttons and sit back and let Solar Eclipse Timer guide you through this spectacular celestial event. There are no app ads and no in app purchases. For more information, visit www.solareclipsetimer.com.
###
The Astronomy Technology Today editorial staff would like to take this opportunity to remind you of the availability of our Solar eclipse equipment guide – The Definitive Equipment Guide to the 2017 Solar Eclipse.  Our goal with the 40 page publication is to provide an easy-to-consume introduction to the technological options for viewing and imaging the Great Solar Eclipse. We cover the gamut of options available including building you own solar viewer, solar glasses, smart phones, DSLR cameras, using astronomy telescopes, solar telescopes, using binoculars, solar filters (including a DYI filter option), CCD astro cameras, astro video cameras, webcams and much more. You can view the guide on our website here – its free and there is no requirement to sign up to read the guide.