Looking for something more durable than the standard cardboard-plus-film disposable solar glasses? Consider these options now offered by the Astronomical Society of the Pacific.
Wrap-Around Eclipse Shades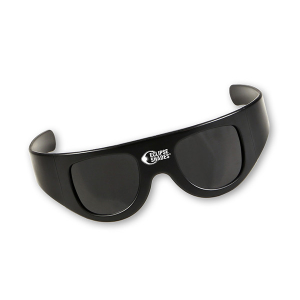 Perfect for non-eyeglass wearers, these new Eclipse Shades solar glasses feature extra wide temples and shield above the nose bridge eliminating most ambient light leaks and putting you in a truly dark viewing environment.
Constructed from scratch resistant black polymer, each lens boasts an optical density of five or greater. They certified absolutely safe for direct solar viewing, providing the ultimate in protection from harmful solar radiation, filtering out 100-percent of harmful ultra-violet, 100-percent of harmful infrared, and 99.999-percent of intense visible light. Viewers enjoy a sharp, orange-hued image. For use by those ages eight and up (although adult supervision is recommended for minors).
ASP's Eclipse Shades include two bonus cardboard safe solar eclipse glasses, a lanyard, and a micro-fiber pouch for storing and cleaning. Note: Due to the wrap around feature, these glasses do not fold for compact storage.
Plastic Eclipse Glasses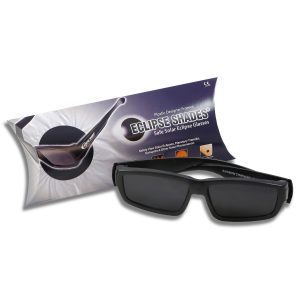 For eyeglass wearers and those who prefer folding glasses, consider ASP's plastic Eclipse Glasses. They have the same high quality and protective optics as ASP's paper Eclipse Glasses and are CE certified. Enjoy the ease of wearing these over prescription glasses, and store them in the micro fiber pouch for safe future eclipses or sunspot viewing.
Both options are priced at $19.95US. For more information, visit https://myasp.astrosociety.org .
###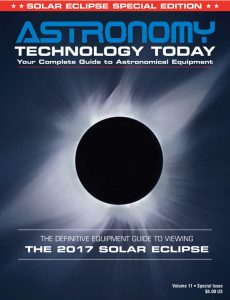 The Astronomy Technology Today editorial staff would like to take this opportunity to remind you of the availability of our Solar eclipse equipment guide – The Definitive Equipment Guide to the 2017 Solar Eclipse.  Our goal with the 40 page publication is to provide an easy-to-consume introduction to the technological options for viewing and imaging the Great Solar Eclipse. We cover the gamut of options available including building you own solar viewer, solar glasses, smart phones, DSLR cameras, using astronomy telescopes, solar telescopes, using binoculars, solar filters (including a DYI filter option), CCD astro cameras, astro video cameras, webcams and much more. You can view the guide on our website here – its free and there is no requirement to sign up to read the guide.