The 49th annual RTMC Astronomy Expo will again celebrate everything telescope from Thursday, May 25th through Monday, May 29th, 2017. The event will be held in the Big Bear City, California area and will celebrate "The Day the Sun Disappears."
RTMC provides the opportunity to:
– See the stars from the clear air of YMCA Camp Oakes.
– Learn of new developments in amateur telescope making (ATM).
– Talk in-depth with the companies that make telescopes and other equipment for the amateur astronomers.
– Join in on presentations that cover the gambit of observing, telescopes, and getting started in astronomy.
– Trade with fellow telescope junkies at the swap meet to be held on Saturday and Sunday
The event's keynote speaker is "Mr. Eclipse." Of course that's Dr. Fred Espenak, retired after 30 years as NASA astrophysicist at Goddard Space Flight Center. He now maintains NASA's eclipse website at eclipse.gsfc.nasa.gov. A prolific author, speaker, eclipse-chaser, photographer, and eclipse expert, Dr. Espenak will discuss latest and best ways to experience the upcoming 2017 solar eclipse. Learn more at www.mreclipse.com.

RTMC will also feature a solar eclipse centric astro-imaging workshop with Josh Smith, from The Astro Imaging Channel, who will provide an in-depth discussion on equipment, acquisition & processing images of the eclipse. Josh is one of the founders of The Astro Imaging Channel, which offers a weekly class & web space devoted to sharing all things astrophotography with the broader community including processing tutorials, hardware reviews, software intros, and more. You can find out more about Josh, see his gallery, and listen to a few of his tutorials on The Astro Imaging Channel on Google+ or at https://www.catchingthecosmos.com/
The Beginner's Corner area will offer comprehensive presentations and nighttime observing for those who are new to amateur astronomy and want guided hands-on experience. The RTMC Astronomy Expo also offers activities for the whole family with its Family & Youth Activities weekend. Kids (and the kid in all of us) will enjoy movies, journeys through the Solar System, and Cosmic Ice Cream.
The event will also feature an Astro Imaging Exhibition where attendees can bring a print of their favorite film or digital image produced since last year's conference in any or all of five categories – Solar System, Deep Sky, Eclipses/Transits, and Meteors, Atmospheric Effects and General (with an astronomical theme).
Learn more at www.rtmcastronomyexpo.org .
###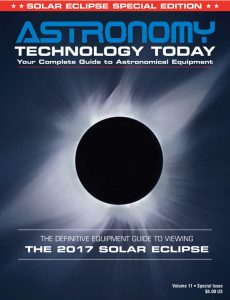 The Astronomy Technology Today editorial staff would like to take this opportunity to remind you of the availability of our Solar eclipse equipment guide – The Definitive Equipment Guide to the 2017 Solar Eclipse.  Our goal with the 40 page publication is to provide an easy-to-consume introduction to the technological options for viewing and imaging the Great Solar Eclipse. We cover the gamut of options available including building you own solar viewer, solar glasses, smart phones, DSLR cameras, using astronomy telescopes, solar telescopes, using binoculars, solar filters (including a DYI filter option), CCD astro cameras, astro video cameras, webcams and much more. You can view the guide on our website here – its free and there is no requirement to sign up to read the guide.