Messier Objects Audio Book and Sketch/Reference Book
We recently were made aware of JJ Evans' Listen to The Stars audio book and companion sketch/reference book. Rarely do we learn of a resource that we find truly different that will uniquely enhance our viewing experiences – this combo audio and print publication hits that spot.
Listen to The Stars Audio Book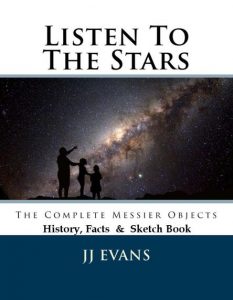 The audio book was designed to enhance your binocular or telescope viewing sessions. Just load the files into your favorite audio device (phone, tablet, MP3 player, etc.) and put on your favorite headphones. Then choose the Messier Object of your choice and be prepared to be add a new dimension to your viewing experience.
The audio book is an immersive audio experience that allows you to listen to any or all of the 110 Messier Objects. Listening to the interesting facts/history (and background music) will absorb you into the views…all while never having to take your eye from the view. Even if you have seen your favorite object numerous times, re-visiting them while listening on your preferred audio device can bring new meaning to your view.
Instead of reading the history and facts about a Messier Object, now you can listen to them while at the scope.
Listen to the narrator as he gives you a wealth of interesting facts and history on your object. You will discover that your view will take on a more interesting aspect as he points out the finer details of the object. You can now be able to see these details as you listen to the description against the spatial background music.
Let's say you are viewing Messier #13 – The Great Hercules Cluster. You may have seen it before, but now witness it while listening to the narrator explain: "Many of the outer stars seem to be arranged in long arcs weaving their way across the cluster face and the distribution of the bright stars is not even across the surface. Also, there are three dark dust lanes that form a Y shape towards the southeast of the core. This is known as the "propeller".
Whether you are new to astronomy or a seasoned amateur, this audio experience will certainly add a new perspective to your session.
Messier Astronomy Reference & Sketch Book
This 294 page book offers an excellent way to combine locating your object and documenting/sketching your findings. It can be used at the scope or information can be added later at your leisure. It becomes a culmination of facts, history and sketches which nurtures that creative outlet for your viewing sessions. The Paper Back Book is a comprehensive Sketch/Facts/History/Listings/Data Book. An all-in-one style work book. Even if you don't enjoy sketching, the book is a great "diary" for your observation sessions.
The sketch pages, which are in Messier order, have space for recording pertinent information such as – Site, Weather, Moon, Scope, Eye Pieces, Magnification, Constellation, Notes, etc. It even has a globe to record the sky area where the object was located. Accompanying each sketch page are facts and history on that particular Messier. Other pages include Atlas Info, Charts, Viewing by Season, Constellation, Personal Notes and more. And when you're done, you will have a physical history of your viewing experiences that you can share with your family and friends. And maybe, many years from now, one of your relatives will enjoy reliving your favorite pastime.
The Audio Book is for sale on both iTunes & Amazon. The paperback can be purchased on Amazon or directly through the author at his website. More information is available at www.listentothestars.net.