Matrix Astro Products is a new company that will be launching a line of mobile motorized tripod telescope piers. Shown in Image One is a is a prototype mobile tripod telescope pier with a 12-inch extension motorized lift capable of lifting 1200Lbs. The company plans on releasing 12', 16' and 20' inch motorizes piers.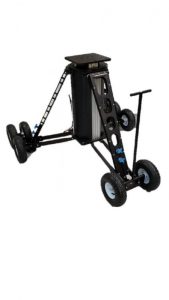 The piers will offer wireless remote controlled 12VDC operation with precision linear bearings rails for precise linear vertical movement. The telescope pier tripod legs are extendable to the ground without the use of secondary wobbly jack screws (patent pending). You can use the mobile tripod's 10-inch wheels to safely move your telescope even on grass. By removing the tripod portion, the lifting stage can also be used as a telescope pier mount onto an observatory pier base.
Matrix Astro Products website is still in development however you can contact them at  matrix.astroproducts@gmail.com for more information.
Below is a short video of the telescope pier motorized lift.
You might also be interested in a new pier from iOptron designers. The new Tri-Pier 360, so named because it is engineered to carry up to 360 pounds of equipment, is portable but remains stylish enough to compliment any observatory. Features including adjustable height and uneven terrain leveling capabilities, allowing the user to set up to view or image just about anywhere.