Planewave Instruments recently installed a high-end telescope imaging system in a customer's home in France.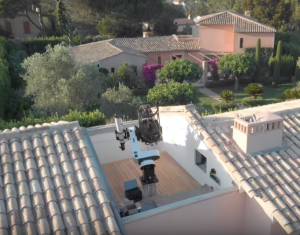 As Matt Dieterich with Planewave Instruments comments, "This was one of the craziest telescope installations I have been involved with and St. Tropez, France certainly lived up to the hype of being classy. Rupert Smith's company helped oversee the equipment selection and install. The contractors had to overcome design challenges such as using a pier that raises and lowers the telescope so the sliding terracotta roof clears the equipment. The client had to stay within an architectural theme for St. Tropez, France, so he could not use a regular telescope dome. I hope you enjoy this behind the scenes view into the one of the most adventurous telescope rigs I have helped setup!"
The following gear for the observatory was installed:
– PlaneWave Instruments L-500 mount
– ASA400
– APM-LZOS 130
– Andor IKON
– ZWO 174 Mini
– OSC – QHY 367
– eShel – QHY 22 / QHY 174
– FLIR Grasshopper
PlaneWave Instruments also recently installed a PlaneWave 1-Meter telescope (CDK1000) for the US Naval Observatory high atop the Cerro Tololo Inter-American Observatory in Chile. The high elevation and stable atmospheric conditions make Chile the perfect location for large aperture research telescopes.
A video of the St. Tropez, France installation is available here.