Sturdy and attractive, the Berlebach Tripod offers a Magnesium mounting head designed to perfectly compliment the new Black Vixen Porta II Head.
This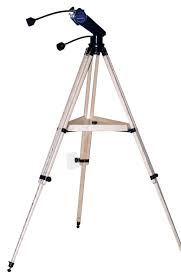 combination is a must for the serious astronomer providing an attractive and very stable combination with excellent vibration damping. The tripod legs have no fixed angle stop and leg spread is limited by triangle tray and steel chain, both included with the tripod.
Vixen's venerable Porta II Mount, now available in black, offering a solid alt-azimuth mount with a 20lb payload capacity and features slow motion flexible handles to minimize vibrations and keep your view sharp. This head has the same functionality and quality as the original Porta head. It comes complete with dovetail attachment system, handles and tool kit.
Pairing the mount with the StarGuy Berlebach Tripod provides excellent stability and great aesthetics. In addition, this combination is great for terrestrial viewing. With no locks or clutches, the gear drives make it a simple matter to precisely track a planet or a ship on the horizon by turning the elevation and/or azimuth control handles. The Porta II Mount Head features slow motion control of both axes, solid central bolt for easy tripod change, flex handles and accessory tray.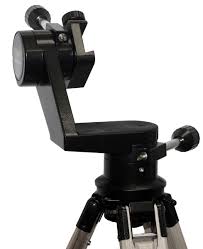 In addition to its functionality with the Berlebach Tripod, the Vixen Black Porta II Mount can be used with a Vixen HALSXG or camera tripod.
Specifications for the StarGuy Berlebach Tripod with New Black Vixen Porta II Head include:
– Tripod: Wood Max Height 37″
– Mount Weight: 17 lb. including tripod
– Load Capacity: 20 lbs.
– Vertical and Horizontal Slow Motion: 120Tooth Wheel Gears whole circle movement; Friction control system
– Telescope Attachment: Dove Tail Plate Accessories.
– Flexible Slow-Motion Handles (2)