APM Jena is a new telescope manufacturer located in Jena, Germany. Its owner and founder, Norbert Stroemich, is a mechanical engineer and former employee of over 14 years at Carl Zeiss Jena.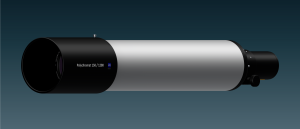 The company's initial offering is a Fluorite Quadruplet Polychromat 150/1200, offering a premium refractor for both visual and imaging astronomy. The company states that the telescope does not show any decrease of the Strehl ratio near or below the diffraction limit in the peripheral regions of the visual spectrum. Due to its polychromatic correction, the 150/1200 CaF₂ Quadruplet is designed to take advantage of the full UBVRI spectral range (365nm – 1014nm) of modern CCD and CMOS electronic sensors.
The aspherical lens surfaces of the objective lenses are made of three different optical glasses. Due to a novel compensation cell, the lenses of the completely oil spaced objective (without air gaps) are held in stable position with fluctuations in temperature.
The CNC precision machining of lens cell, dew cap and telescope tube ensures the required high centering accuracy. The optical tube assembly (OTA) is thermally invariant, to compensate for temperature fluctuations and to bring about a rapid temperature compensation.
Inside the OTA, a defined surface structure and a diaphragm system in combination with an antireflective coating of all internal surfaces effectively prevents the occurrence of scattered light and tube reflections.
The over 150mm sliding dew cap, which can be clamped in any position, takes into account the maximum image field diameter of the field corrector and focal reducer corrector of 3.5-inches each.
A Feather Touch focuser from Starlight Instruments is mounted with a 2-inch adapter. The Feather Touch focuser is rotatable by 360 degrees, so that it can always be turned into the desired position.
The net export price of the new telescope is € 19,739.50 not including VAT/shipping and build times are from 10-12 months. Full technical details are available at the company's website.