Stellarium is an open-source planetarium software which renders 3D photo-realistic skies in real time displaying stars, constellations, planets, nebulae and more. Stellarium is licensed under the terms of the GNU General Public License version 2 and is available for Linux, Windows, and macOS.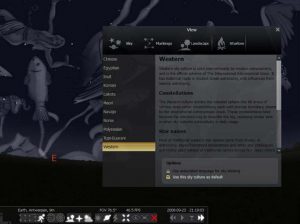 Stellarium provides a real-time view of what the sky looks like from anywhere on earth. Users can fast forward the time to track the movement of stars and other objects across the sky. There is a zoom option available to simulate using a telescope or binoculars.
The software offers a built-in catalogue of more than 600,000 stars and provides the ability to download additional catalogues of over 170 million stars. A plugin is available to provide telescope control.
The community behind the free software has announced v0.19.3 has been released. Highlights of the release include direct ASCOM support for the Telescope Control plugin on Windows, refactoring of the GUI, improvements in DSO catalog and many other improvements to the code.
The latest development snapshot of Stellarium is hosted on GitHub. If you want to compile development versions of Stellarium you can get the source code here.
You can learn more on what's available in the latest version release here.