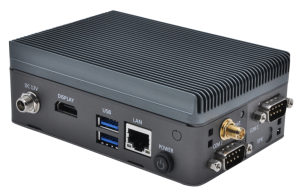 Deep Space Products new Mission Control 75 Observatory Computer is a small form factor, dustproof, ventless, industrial-grade, fanless observatory computer. The system comes with Windows 10 preinstalled.
Unlike other available small form-factor computers, the MC75 is completely fanless, protecting against dust or other debris in observatory applications. Removing the fan also removes a point of failure, creating a solid-state solution with no moving parts that will outlast commercial mini PCs, laptops and desktops in the observatory.  In addition, the use of passive cooling reduces the potential for vibration and eliminates all noise.
The single-interface heatsink provides optimal heat transfer, further improving cooling performance over other cases.
Measuring just 122 x 80 x 44 mm (4.8″ x 3.15″ x 1.73″) and approximately 9.5 ounces (270 grams), the MC75 is small enough and light enough for discreet placement in space-constrained observatory environments, particularly in scope-top applications.
Power can be supplied from any 12VDC power source with at least 2.0 amps recommended.  Peak system power consumption is approximately 1 amp.  The power connector is a standard 2.5mm barrel connector.
The computer is offered in custom configurations which can include complete custom scope-top systems with the computer and other observatory equipment, mountings, custom-length cables, etc.
The base configuration for the MC75 includes the following:
– Fanless case with single-piece heat sink
– Intel Celeron N3350 (2C. 1.1 GHz, up to 2.4 GHz, TDP 6W)
– Windows 10 Pro
– 4GB RAM
– 64GB SSD
– Wifi/Bluetooth with single antenna
– RS-232 Com port
– RS-232/422/485 Com port