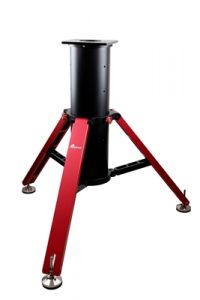 Recognizing that many observers and imagers alike are choosing to take larger and more capable instruments to "darker skies," iOptron designers created the Tri-Pier 360 to serve as a portable support for their equipment.
A rugged, dependable, portable pier, the Tri-Pier 360, so named because it is engineered to carry up to 360 pounds of equipment, is portable but remains stylish enough to compliment any observatory. Features including adjustable height and uneven terrain leveling capabilities, allowing the user to set up to view or image just about anywhere.
iOptron's Tri-Pier 360 weighs 42 pounds (19 kilograms) and is constructed of anodized aluminum alloy. The diameter of its pier section is 7.125 inches (18.01 centimeters), and its wall thickness is 0.25 inches (6.35 mm). Its height is adjustable by 10 inches (from 32 to 42 inches), and each leg has a leveling adjustment range of 2 inches (50.8 mm). The maximum leg-spread width is 42 inches. The iOptron Tri-Pier 360 is priced at $899US.